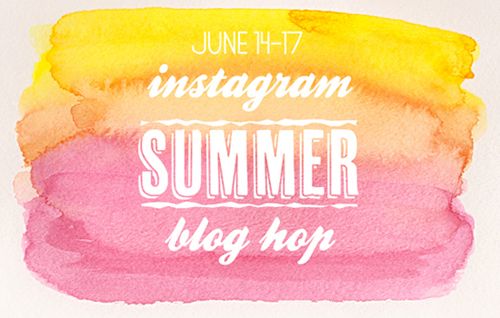 HELLO!!!
Welcome to the Instagram Blog Hop!!
I am thrilled to be a part of this blog hop - I LOVE my Instagram friends & I really enjoy looking at all of their photos! It really is cool to see how creative everyone is!
What is this blog hop all about? As Jaime Warren said…"It's a celebration!" If you aren't on Instagram and can join - do it!! You will love it! If you are on Instagram, follow one of us, or all of us....we love to chat and share.

My username is: susankweckesser .

Can't wait to see ya there!

Here are some of my latest instagram pics…
It relaxes me so much when I take photos and then spend a couple minutes editing them. It makes my heart smile to create lovely little pieces of art in picture form….or quickly upload them to people can see what is going on in our family!
So...HERE IS THE PRIZE THAT I AM GIVING AWAY WITH THIS BLOG HOP: One of my Live in Color scrapbooking paper packs & the new summer edition of the Canadian Scrapbooker with my ,'A Material World' article in it. Just leave a comment and I will draw a winner on June 18th! Be sure to hop to all of the blog hop bloggers for more prizes and fun!
Aida Haron | aidaville : www.aidaharon.livejournal.com
Amelia Khalik | ameliakhalik : www.ameliakhalik.blogspot.com
Cindy Lee | cindylee : www.mylilcraftycorner.blogspot.com
Clare Reilly | thelifeofclare : www.thelifeofclaree.blogspot.com
Evelyn Pratiwi Yusuf | geekgalz : www.evelynpy.wordpress.com
Gina Lideros | ginalideros: www.canoncreativegirl.blogspot.com
Jaime Warren | jamiewarren : www.jaimewarren.typepad.com
Janna Werner | jannawerner : www.jannawerner.de
Jessy Christopher | jcchris : www.teacherjessy.blogspot.com
Joan | joancce : www.scrapsncards.blogspot.com
Jordan Blaser | missblaser : http://missblaser.com/?page_id=9
Julie Garcia-Matus | callelillycafe : www.callelillycafe.blogspot.com
Kim Watson | kjstarre : www.kj-starre.blogspot.com
Kimberly Neddo | kimberlyneddo : www.kimberlygarofolo.typepad.com
Laura Banasiak | laurabanasiak : www.simply-scraps.net
Liana Suwandi | lianasuwandi : www.maples-lianasuwandi.blogspot.com
Lindsey Hansen | lindzeyhanzen: www.lindsey-hansen.com
Marie Ramirez | bettiescrapbook : www.absosweetmarie.blogspot.com
Melissa Mann | melissamann1981 : www.iheartpenquins.blogspot.com
Merdrey Chew | medrey : www.dreamieland.wordpress.com
Michelle Kehoe | michellek : www.michellelovesallsorts.blogspot.com
Michelle Lanning | michellelanning : www.michellelanning.com
Nancy S | Kittynance : www.kittyscrapper-nancy.blogspot.com
Natalie Elphinstone | natalieelph : www.onescrappydoctor.blogspot.com
Natt Smith | tinynatt : www.tinynatt.blogspot.com
Nina Burgess | ladybugnina : www.adventuresinbugland.blogspot.com
Sharmandeswari Nidyanandan | shamu_rueben :www.craftyliciousme.blogspot.com
Susan K. Weckesser | susankweckesser : www.mysweetearth.blogspot.com
Suryanti Halim | isur : www.suryanti-halim.blogspot.com
Talia Carbis | taliacarbis : www.number-19.com
Wati Basri | watibasri : www.scrapcreation.blogspot.com